Free Inspection During August's Brake Safety Month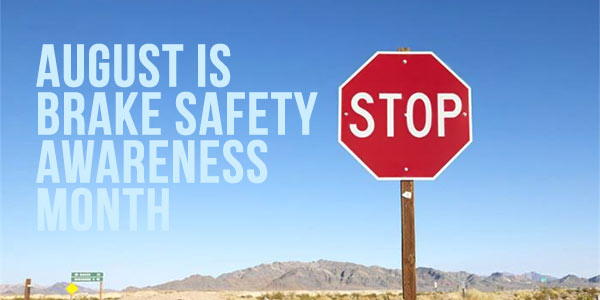 Do you, like many vehicle owners, wait for your brakes to start grinding or the brake pedal to feel "soft" before heading to an automotive service shop for a "brake job?" There's no better time to check the condition of your vehicle's complete braking system than during August, MAP Brake Safety Awareness Month.
Throughout this event, the nation's leading consumer auto service non-profit organization – the Motorist Assurance Program (MAP) – wants you to stop at any MAP participating repair shop for a free brake and related undercar inspection. There's no better way to ensure that your vehicle's braking and other undercar systems are working properly before heading into the fall and winter driving seasons.
"For very obvious reasons, it's important to make sure your brake system is working correctly and that all system components still have plenty of service life to ensure trouble-free performance," said MAP President Barry Soltz. "Plus, it's important to know what to look out for when it comes to brake components and other undercar parts that periodically wear out. Many vehicles require service that the average person wouldn't be able to detect from daily driving, making it even more critical to perform periodic safety inspections."
During Brake Safety Awareness Month, participating shops will offer free inspections, educate vehicle owners regarding key under-car systems, provide complimentary automotive troubleshooting materials, and answer consumers' preventative maintenance questions. Look for a repair facility prominently displaying its "Motorist Assurance Program" decal near their entrance or customer waiting area, or find participating stores in your area on the MAP website.
MAP, a non-profit program created by concerned automotive business owners, manufacturers and associations, requires all of its participating shops to adhere to a strict set of fact-based vehicle inspection and communication standards. MAP establishes criteria not only for recommending replacement of worn parts and other products, but also how these recommendations are communicated to the vehicle owner.
Let's talk a little bit about Brakes:
At 30 mph it takes 80 feet for a properly operating brake system to stop your car. \
People should especially consider their stopping ability when driving.
Drivers who "tailgate" are putting themselves and others in danger if they do not have properly working brake systems. Especially if it takes 80 feet for a properly operating brake system to stop a vehicle traveling at 30 mph!
Many drivers do not properly use their turn signals to indicate lane changes and exits. The absence of such signals may cause you to rely on your brake system to avoid an accident. You cannot always predict other vehicle's driving.
Taking care of your brakes is a critical part of keeping your vehicle safe and running smoothly. Keeping your brakes in good working order can prevent more costly repairs down the line.
Braking systems on all vehicles are complicated and contain many parts, all of which need periodic inspection and attention to ensure proper operation and performance.
Many parts of the brake system are high-wear items that need replacing or maintenance every few years.
When you step on the brake, your car transmits a force from your foot to the brakes through a fluid that commands a stopping force ten times as powerful as the force that puts the car in motion.
The braking system can exert as much as 1,000 pounds of hydraulic pressure on each of the four brakes.
You can look at your brake pads for any visible wear. Look through the spaces between the wheel's spokes. The outside pad will be pressed against a metal rotor. Generally, there should be at least 2/32 inch of a pad. If there is less than 3/32 inch of a pad, you may want to have your pads inspected or replaced.
There are many warning signs that your brakes need to be checked. If you have experience any of the following, it is important that you get your brakes checked today!
Brakes are not as responsive as they should be.
The feel of the brake pedal is low, spongy or soft. Too high or hard. Or the pedal pulses or hops.
Wheels lock during braking.
Brake pull, meaning that the car that pulls to one side during braking.
Brakes squeal or make a grinding noise.
Steering wheel vibrates, shimmies or pulses during braking.
And one of the most noticeable signs is that the brake warning light is on. Don't ignore this warning sign!